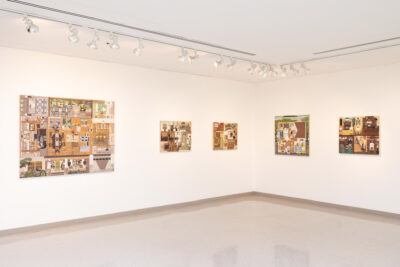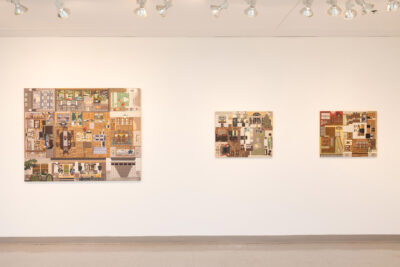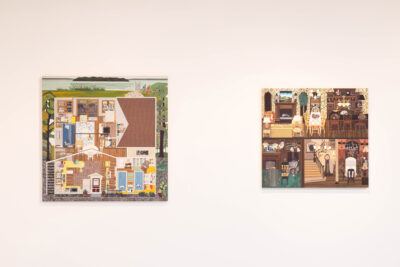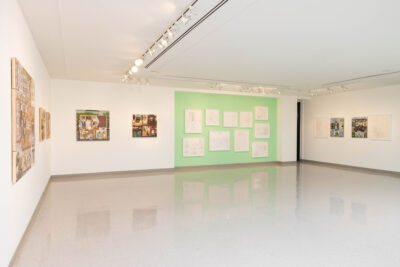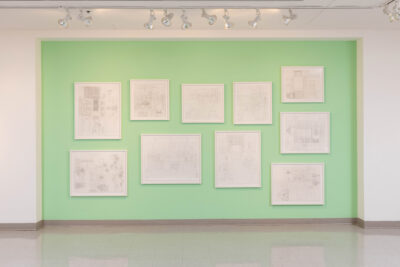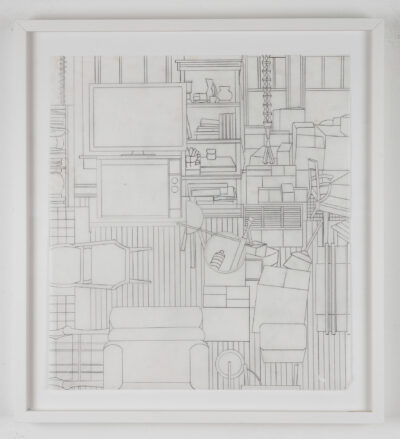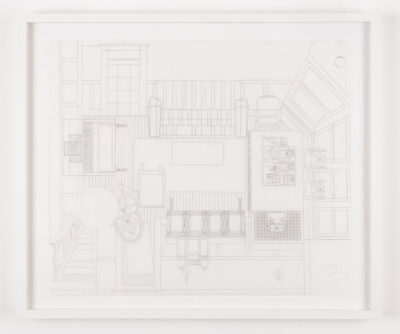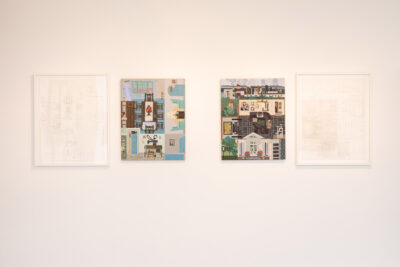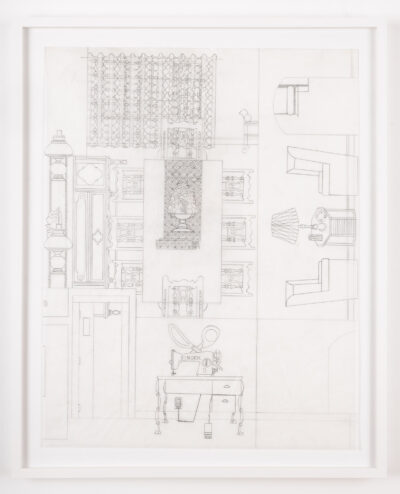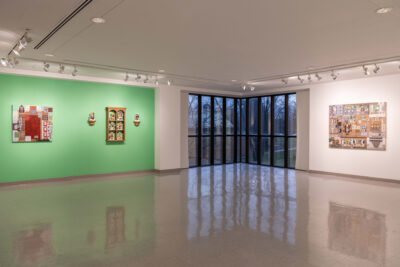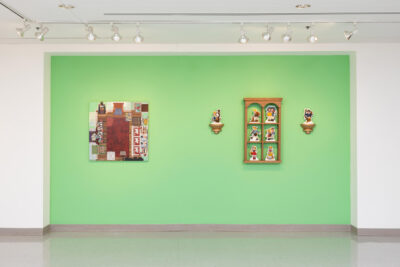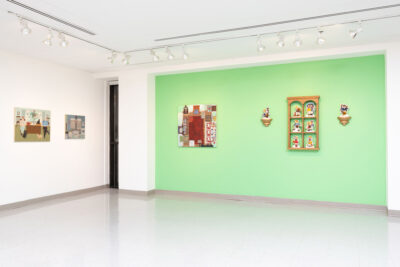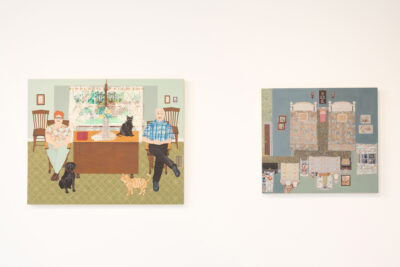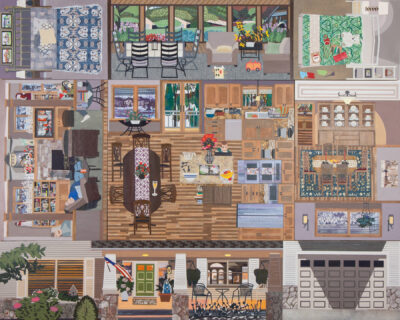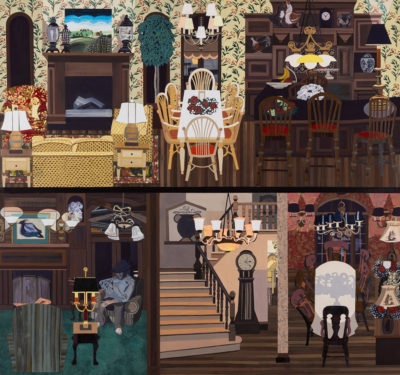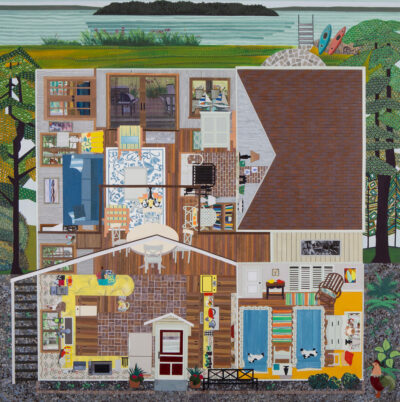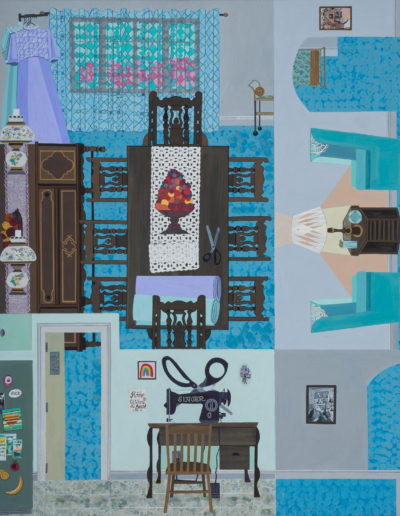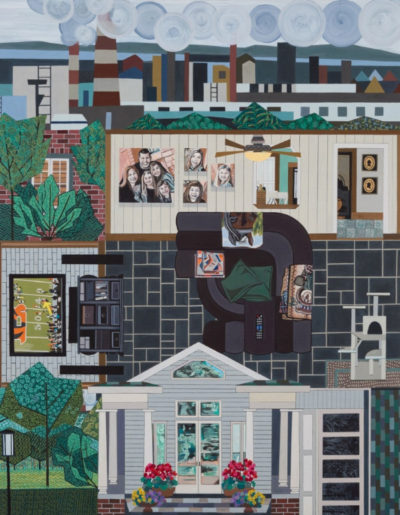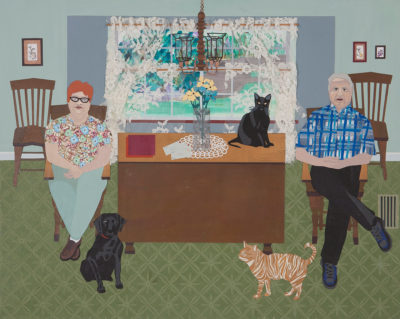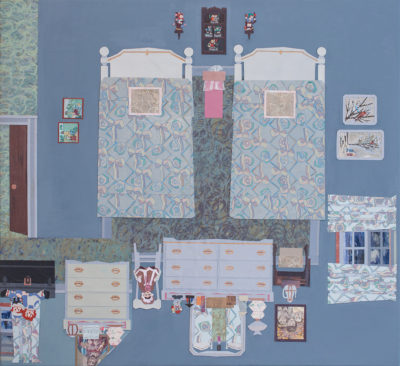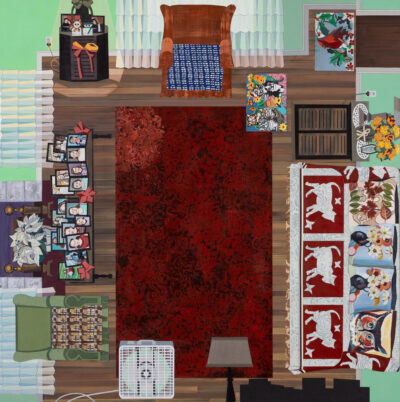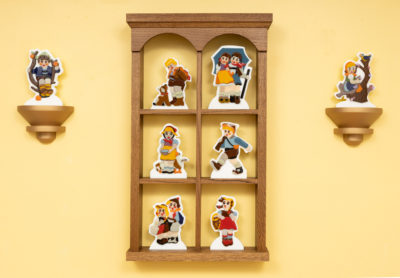 Midway
UIS Visual Arts Gallery, Springfield, IL
March 20-April 14, 2002
Ann Toebbe's painting and drawings turn home interiors into a kind of spatial dance, where memories and symbols interconnect with middle class architecture, inviting us to contemplate anew what is inside and what is outside. Her work draws on her personal experiences, exploring themes of family, friendship, marriage and motherhood through meticulously detailed but spatially stylized (and often disorienting) interior scenes. Toebbe traces her fascination with interiors to growing up in a small working-class Ohio home, and how her childhood and young adult memories were shaped by people's homes and what they revealed about a family's culture, their relative affluence, indeed their identity and whole world.  
Her interest in composing flat and stacked interior vignettes developed from her initial determination to include everything in a room in one composition. This "inventory of everything" technique is frequently encountered in folk and outsider art. Adapting this technique to her own work, Toebbe's images play with scale and orientation, using framing and geometry to create compositions that prioritize surface and color over space and light. She also introduces collage to her painted surfaces, a process that adds layers and texture even while the pictures remain decisively flat. Toebbe describes these works as collage-paintings, as they often have more paper than paint on the surface. 
Originally from Cincinnati, Ohio, Toebbe received her bachelor's degree in fine arts from the Cleveland Institute of Art in 1997. She earned an master's degree in fine arts in painting from Yale University in 2004 and a DAAD Scholarship to the Universität der Kunst, Berlin in 2004-05. The primary focus of her paintings is domestic life. Toebbe's process is labor intensive, employing freehand painting, flat geometry, geometric abstraction and intricate patterning. Her paintings are often multi-media works with furniture and objects collaged on the surface cut from paper the artist paints in her studio. Drawing on folk art andIndian Miniature paintings her compositions play with flatness and multiple points of views. Each painting can simultaneously have inside and outside views, views from above, and objects and figures portrayed from a straight on  
This program is partially supported by a grant from the Illinois Arts Council Agency.